Spiral Mountain
is the first course of
Super Banjo-Kazooie 64
.
Star 1: King Bob-omb Reigns Edit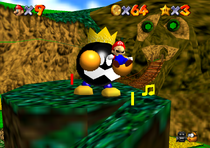 How better off to start a Mario game than defeating King Bob-omb once again. Found at the very top of the spiral pillar, the King is as slow as usual so Mario can easily defeat him using old strategies. What makes it slightly difficult is the platform this epic fight is taking place on is rather small, and as usual the King is not fond of being thrown off it altogether.
Star 2: Dead Trees Edit
Such a dreadful name for such a fun level, a.k.a the five secret spots. From the start of the level walk down the path and take a sharp left to find six tree stupms. Jumping on each will grant you the star, which will appear on the lower tree stump in the middle.
Star 3: Dried Up Waterfall Edit
TBA
Star 4: Giant Gruntilda Edit
TBA
Star 5: Eight Red Notes Edit
TBA
Ad blocker interference detected!
Wikia is a free-to-use site that makes money from advertising. We have a modified experience for viewers using ad blockers

Wikia is not accessible if you've made further modifications. Remove the custom ad blocker rule(s) and the page will load as expected.